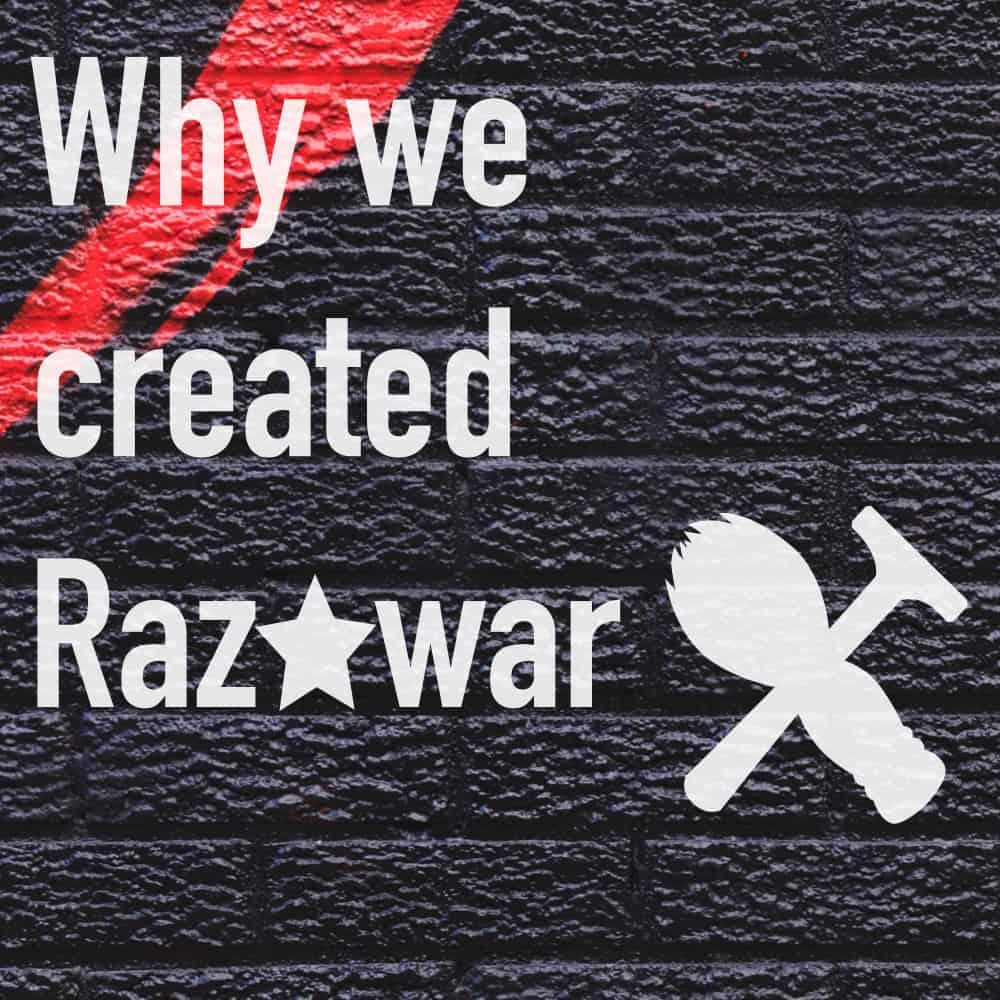 "In the beginning, shaving was shapeless and empty; there were disposable razors on the surface of the skin, and the spirit of shaving moved over an indelicate foam. " - Genesis of Shaving
"In the beginning, the shave was shapeless and empty; there were disposable razors on the surface of the skin, and the spirit of the shaving hovered above an indelicate lather. » - Genesis of Shaving 
Shaving sounded chore.
Raz ★ War started from a
first observation: shaving is a real chore for most men
. Above all done for the sake of comfort, aesthetics or habit, shaving is often seen as a
waste of time
. The shaving environment often doesn't help: the blades are expensive, the shaving foam canisters are often unsuitable for a pleasant shave, and the equipment is poor.
This observation had the effect of a real detonation in Raz
★
War:
A whole population was to be rescued.
The first aid operation was launched in difficult terrain. Raz
★
War wanted to revolutionize the world of shaving by offering quality razors at fair prices. The war against the shaving giants was on! There was no longer any room for compromise: the quality of the shave should no longer be neglected.
Let's simplify.
This first observation was ideologically beautiful, but involved a new dimension: Take the time to take the time. In this register, many trivial daily activities affect our available time. Whether it's commuting to work, leaking water in the bathroom, or buying consumer goods at the local superstore, our time available to take time for ourselves is continually being put in place. strained.
Raz's second observation
★
War then became clear to us:
Let's simplify things
. Shaving is a fairly common thing in a man's life. It seemed logical then to avoid having to go through the same steps over and over again to buy your razor blades, and simply receive them in your mailbox, at freely defined intervals.
The subscriptions shaving
 appeared. Raz
★
War had invented them! Our revolutionary customers placed an order once and received their blades every quarter. They never ran out of blades again. They no longer needed to wear down their razor heads, or they could injure themselves. Nor did they have to redouble the innovation to shave with everyday objects in the absence of their favorite razors.
Let's offer flexibility and time.
By subscribing to Raz
★
War, the revolutionary customers
offered peace of mind
. Daily comfort. More so, they
saved time and money
while having fun. And, when they surreptitiously decided to grow a beard after losing a bet with good friends, they always had the option to pause their membership at any time. 
This flexibility offered to customers in combination with the experience of a moment of well-being, this is what drives Raz
★
War now for many years on a daily basis.
With Raz
★
War, you have the
choice
between different types of razor according to your desires and needs. The most economical and ecological in the long run will undoubtedly be the
El Cid
. The safety razor is indeed the traditional razor par excellence, with its metal handle and very economical double-edged blades. On the other hand, it will not provide a "baby butt shave", unlike the
El Fidel Neo
, since there is only one blade going over the hair. Raz * War lets you choose based on what matters most to you.
Real expertise
Today, Raz
★
War offers a real
shaving ritual
. Shaving brushes, shaving soaps and other accessories essential for a quality shave delight thousands of our customers every day. For the sake of quality, we have scientifically studied the best shaving techniques to condense them into a few products. For example : 
Instead of drying out the skin like shaving foam bombs do, our soaps have the advantage of adding plenty of water to the shave, which is essential for a comfortable shave. 
the shaving brush allows you to exfoliate the skin, lather and apply shaving cream or soap, as well as straightening the hair to make it easier to cut.
This science of shaving is the Raz experience
★
War on a daily basis. Even if it means spending 7 minutes a day shaving, Raz
★
War wants to turn those few minutes into a moment of pleasure. Let's take this time to take care of yourself and start the day on the right foot.