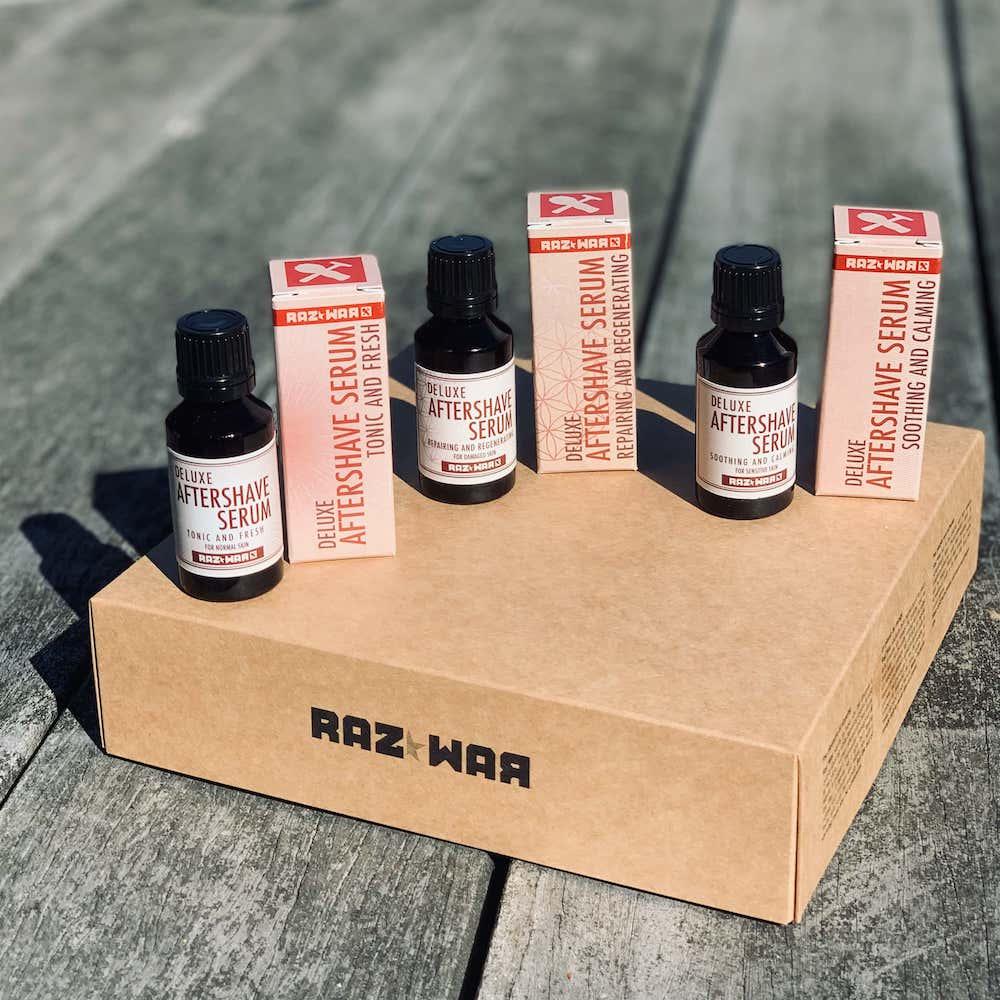 What are post-shave serums used for?
Post-shave serums are highly concentrated in active ingredients, they allow your skin to feel better, as if soothed.
Post-shave serums are highly concentrated in active ingredients, they allow your skin to feel better, as if soothed.
Their texture is fluid and penetrates well into the pores of the skin. They are to be applied on your face after shaving and after applying your usual moisturizer for double action. You can also choose to use just the serum, or just the cream. Raz * War now has ITS RANGE of handcrafted serums. You have the choice between three serums which have different actions. At Raz * War, all the ingredients are chosen for very specific reasons. There are no chemicals in their products.
Serums are little miracle products. If you want to maintain healthy, vibrant skin, this is what you need for a radiant face. Who doesn't want this? In addition, the serums nourish but do not leave a greasy and shiny film on your skin.
Organic aftershave serum for sensitive skin (Soothing and calming)
the aftershave serum is useful and effective in calming razor burn. It also helps restore the skin barrier, with a NON-OILY finish. The serum nourishes the skin and helps fight against dehydration.
Composition:
Hemp oil is rich in Omega-6 and Omega-3, it restores softness and elasticity to the skin.
The caprylic helps to soften the skin.
Calophyllum oil is rich in powerful soothing active ingredients and fights against redness.
Sesame oil, rich in antioxidant active ingredients, offers restructuring and softening action.
Sweet almond oil has a soothing and softening action.
The oily macerate of calendula is soothing and revitalizing, it helps fight against tightness.
Bisabolol is a powerful soothing active ingredient, excellent for sensitive skin.
In short, you will understand, only ingredients to pamper the skin of your face.
The organic aftershave serum (tonic and freshness)
The difference with the Soothing Calming Serum is that it is invigorating and fresh for a little boost (small, don't worry).
Its basic composition is the same, but the tonic serum contains essential oil of balsam fir, bay laurel, and ginger, great for giving a boost.
Organic aftershave serum for damaged skin (regenerating and repairing)
The squalane and copahu balm contained in this serum are powerful active ingredients with soothing and repairing properties, excellent for fragile and damaged skin. Fragile and dry skin that needs comfort: it's for you !
To prove to you the quality of these Raz * War serums, know that INCI beauty, a French application, totally independent rated them 17.2 / 20. The note speaks for itself.
Are post-shave serums really useful?
Sure ! Raz * War serums nourish your skin, they smooth, soothe and refresh it.
When and how to apply them?
They are to be applied after each shave by making small circular movements. soft and light with your fingers to penetrate the products and the active ingredients that compose it.
The serums will allow your skin to keep its elasticity and have more comfort and no tightness. It would be a shame not to do so.